Marketers use different tools in order to get the desired response from the customers or best satisfy their needs. These tools are known as The Marketing Mix. Marketing Mix is probably the most famous term in marketing.
Marketing Mix
Marketing Mix is a combination of marketing tools that a company uses to satisfy their target customers and achieving organizational goals. McCarthy classified all these marketing tools under four broad categories:
Product
Price
Place
Promotion
These four elements are the basic components of a marketing plan and are collectively called 4 P's of marketing. 4 P's pertain more to physical products  than services.  Below is an illustration for marketing mix.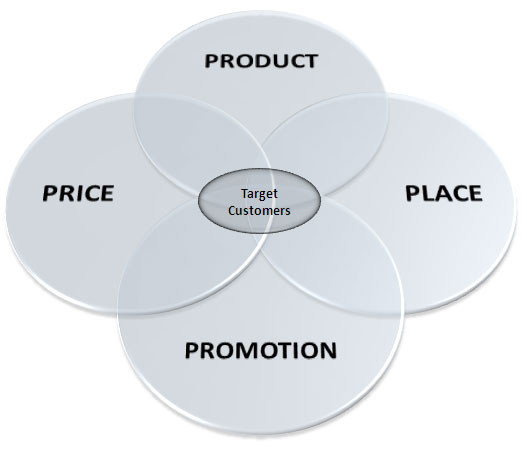 The important thing to note is that all these four P's (variable) are controllable, subject to internal and external constraints of marketing environment. Marketers, using different blends of these variables, can target different group of customers having different needs. So, a customer may call  marketing  mix "the offering".
Product
Product is the actual offering by the company to its targeted customers which also includes value added stuff. Product may be tangible (goods) or intangible (services).
While formulating the marketing strategy, product decisions include:
What to offer?
Brand name
Packaging
Quality
Appearance
Functionality
Accessories
Installation
After sale services
Warranty
Price
Price includes the pricing strategy of the company for its products. How much customer should pay for a product? Pricing strategy not only related to the profit margins but also helps in finding target customers. Pricing decision also influence the choice of marketing channels. Price decisions include:
Pricing Strategy (Penetration, Skim, etc)
List Price
payment period
Discounts
Financing
Credit terms
Using price as a weapon for rivals is as old as mankind. but it's risky too. Consumers are often sensitive for price, discounts and additional offers. Another aspect of pricing is that expensive products are considered of good quality.
Place (Placement)
It not only includes the place where the product is placed,  all those activities performed by the company to ensure the availability of the product tot he targeted customers. Availability of the product at the right place, at the right time and in the right quantity is crucial in placement decisions.
Placement decisions include:
Placement
Distribution channels
Logistics
Inventory
Order processing
Market coverage
selection of channel members
Promotion
Promotion includes all communication and selling activities to pursuade future prospects to buy the product. Promotion decisions include:
Advertising
Media Types
Message
Budgets
Sales promotion
Personal selling
Public relations
Direct marketing
As these costs are huge as compared to product price, So it's good to perform a break-even analysis before allocating the budget. It helps in determining whether the new customers are worth of promotion cost or not.
It often takes time and requires market research to develop a successful marketing mix. You should not depend on one mix always try new mixes. While designing the mix, make changes to all mixes in such a way that all conveys the same message. Don't confuse your customers by just changing one variable and keeping the rest same.
Limitation of Marketing Mix
Marketing mix (4 P's) was more useful in early 19's when production concept ws in and physical products were in larger proportion. Today, with latest marketing concepts, marketing environment has become more intergrated. So, in order to extend the usefulness of marketing mix, some authors introduced a fifth P and then seven P's (People, Packaging, Process). But the foundation of Marketing Mix still stands on the basic 4P's.